WE REFORM THE BREAKFAST ROOM OF OUR HOTEL IN TUDELA
BED4U
29/11/2017
As we have been announcing for some time, bed4U Tudela has completely renovated its breakfast room. The result has been an open
, contemporary and very practical space.
What do you think?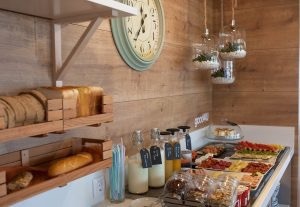 The aesthetic aspect has had a great weight in the reform. Thus, combining materials and elements that fit perfectly with each other, with the warmth of wood, the nobility of marble and the freshness of plants, a cheerful, modern and welcoming result has been achieved.
But the reform has not been merely decorative, but has also pursued several more functional objectives.
On the one hand, we have redistributed the space, making the room more open and accessible by articulating the buffet unit into a single running module. In addition, with the placement of different hanging components we have gained space for the presentation of the products in a more original way. You can also find bread in wooden boxes, cheese on slates and cookies in glass jars.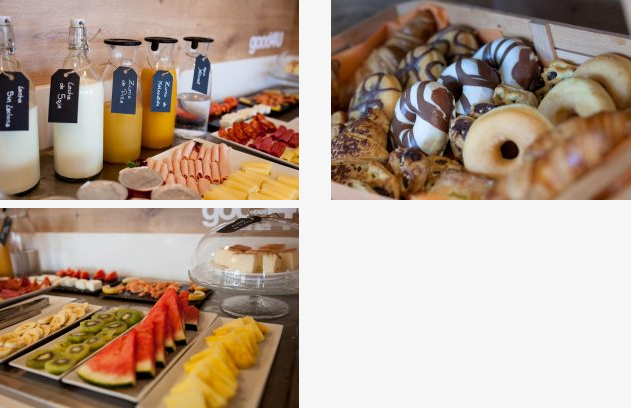 On the other hand, the living room has been expanded with a glazed terrace where, in addition to gaining several places, the games area has been moved. In this way, services are streamlined and spaces are more defined. Children will have their own space to play while parents enjoy breakfast. Of course,
Mickey and Minnie
will not stop visiting us!

Reformed the continent, we could not forget the content. We have taken into account the allergies, intolerances or food needs of our customers to make them enjoy our breakfast like everyone else. For this reason, we have incorporated a wide variety of types of milk (
soy, lactose-free, skimmed,
etc.), as well as a
gluten-free corner
, with plenty of bread and pastries suitable for celiacs. Of course, we have preserved the freshly baked pastries and breads, the fresh cut fruit, the sausage, the yogurts, the cheese cake, etc ... and how could it be otherwise, we have preserved the juice so that you can squeeze
everything yourself! the natural orange juice you want to drink!
But this is not all! The queen addition that will delight the most exquisite guests: the Nespresso coffee machine. With a varied range of capsules of different intensities and shades, which will be the perfect pairing to put the final icing on your breakfast. As George Clooney himself would say, "what else?!?!"

We invite you to pay a visit
Comments